It's impossible to imagine a world without wireless cellular phones. The invention of mobile phones have changed the life style of working population across the globe. For sure it has influenced the society in a positive and progressive path. As the popularity of the cell phones grew, the manufacturers of the cell phones also started to grow gradually. Today we have a handful of mobile phone manufacturers in the world who lower their cell phone prices to get a strong foothold in the market and to stay alive in the competition with other service providers. Some of the top 10 handset manufacturers in the world are,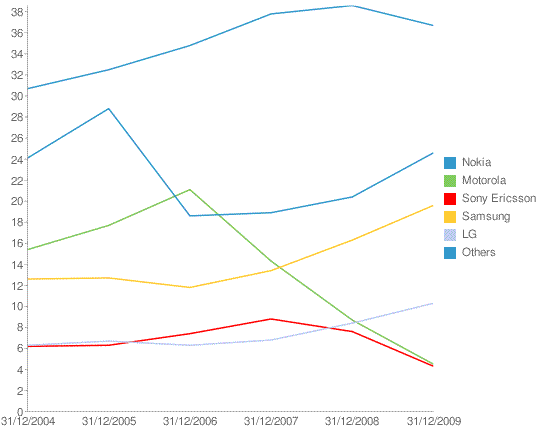 The other companies that are involved in the business are
Apple
, HTC,
Blackberry
,
Alcatel,
Vodafone,
3, Toshiba...etc., Some companies aim at making a good sales whereas others think of providing the latest in the technology in their handsets. So its a healthy competition where we keep getting high end mobile phones manufactured every single day and the pie keeps changing its figure for every quarter of the year according to their sales.
Statistics show that Nokia has always remained in the top spot in manufacturing mobile cellular phones. Samsung is also showing consistency but there is huge gap between first and second places. The next three in the list have a tight race among themselves changing position every year. These top 5 manufacturers alone contribute to around 80% of the mobiles phones manufactured in the world.